We have three classes in year 6; Ash Class is taught by Mrs. Anderson, Hazel Class is taught by Mrs Tobin and Cedar class is taught by Mrs Gaston-Ross.
Life in Year 6
Year 6 is an extremely important year, preparing each child for smooth transition to High School. There are many responsibilities and opportunities to develop independence and maturity including many sports teams, School Council membership, House and Sports Captains, Gold Cap duties and Prefect duties.
Condover Hall
During the Autumn Term, we begin the year with an exciting residential/outdoor activity trip to Condover Hall in Shropshire. This is the main highlight of Year 6 and something that the children remember for many years after. We have found that this experience develops their independence, team work, year group cohesion and self confidence.
Topics
Children in Year 6 need to work particularly hard in all areas especially English and Maths, as they have assessments in Summer Term. Topics covered in Year 6 include Condover Hall, All About Me, Climate Change, Crime and Punishment Through the Ages and The Mayans.
Homework
Homework is an exceptionally important part of Year 6 and is in preparation for the transition to high school. Each week children are expected to read every night, learn spellings, carry out subject specific research, become more independent and take some responsibility for their own progress.
Welcome to Ash Class!
Ash Class is made up of 31 children taught by Mrs. Anderson. Mrs Rae teaches Religious Education in the afternoon. Mr McKenzie teaches Music and Senora Cerdera, Spanish.
I am really looking forward to working with my class on many engaging projects. Please see life in Year 6 for further information.
Best Wishes
From Mrs. Anderson
Cedar Class is made up of 30 children taught by Mrs. Gaston-Ross with Mrs. Rae, Mrs Thistlethwaite and Mrs Letham all supporting Year 6. Once a week, Mrs Rae teaches Religious Education. In addition, we have Music with Mr. McKenzie and Spanish with Senora Cerdera. We have a busy curriculum with lots of interesting subjects but we always try to squeeze in as much Art as we possibly can!
Cedar Class regularly posts photographs and updates on our Year 6 Blog so don't forget to keep checking to find out what we've been up to.
Welcome to Hazel Class!
Hazel has 29 pupils and is taught by Mrs. Tobin and Mrs Rae. Mrs.Lethem and Mrs Thistlethwaite all support the children in Year 6. The children are also taught music by Mr McKenzie and Spanish by Senora Cerdera.
There is lots to look forward to during this final year in Primary School and it will truly be a year never to be forgotten!
Year Six is such an exciting year and, as the year goes on, there will be lots of photos showing what we have been up to! Please look at our blog to see what is happening.
Year 6 Hazel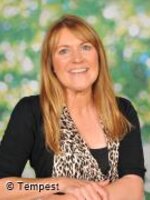 Mrs E. Tobin
Year 6 Teacher
Children have the opportunity to learn their spellings in school, but they are also expected to learn them regularly at home.
Spelling tests take place every Friday Morning.
Click here

for Autumn 2 spellings
Year 6 Spring 1 Spellings 2023
Spellings - Word list Year 3, 4, 5 & 6
Weekly Homework
Reading - Children are expected to read daily. Planners will be checked for a signature to confirm this on Tuesday and Friday. There should be at least two signatures by Friday.
Maths - Homework will be given on a weekly basis. Usually given on a Monday due back in on the following Monday. This may include MyMaths and/or worksheets.
English - May be given over a couple of weeks as a project or on a weekly basis. Details can be found on here or in your planner.
Spellings - Given and tested on a Friday.
The Year 6 SATs are to assess your child's understanding of Maths and English against the National Curriculum learning objectives from Key Stage Two (Year Three to Year Six).
These will take place in May 2023.